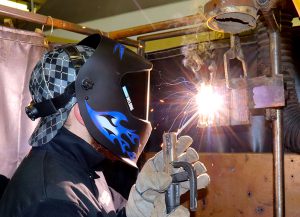 Tom Resso was so motivated to learn in our adult education program that last summer he quits his job and took a new one about an hour from home so he could more easily attend our Welding and Metal Fabrication classes. 
Now the Saugerties/Ulster County resident is being awarded a $1,000 American Welding Society scholarship for his dedication and commitment to welding and metal fabrication.
"I am able to go to work from 5:30 a.m. to 2 p.m. and leave there in time for class, which begins at 3 p.m.," said Resso. "It's a long day, but it's worth it."
Resso is one of 13 students enrolled in the current 10-month, 500-hour program that teaches adults the skills necessary to enter the workforce and the advanced skills sought after by employers.  He will graduate in June, having earned the certificates necessary to open doors in the industry where a shortage of workers has, for some businesses, stymied business growth.
"I want to get into a shop and fabricate. I like making stuff," he said.
Learn about the Welding and Metal Fabrication program and courses in other in-demand careers available to adult learners.