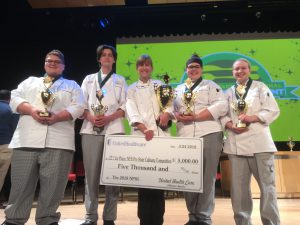 A  team of aspiring chefs will compete in a national culinary competition later this spring after winning the New York State ProStart Invitational at the Culinary Institute of America in Hyde Park. 
The Capital Region BOCES Career and Technical Education (CTE) culinary students are Jovan Afzali of Berne-Knox-Westerlo, Devlan Matthews of Schoharie, Alexia Torres and Katelyn Manchester of Cobleskill-Richmondville.  
They bested 12 other teams from across the state and Vermont. The students had just 60 minutes and only two butane burners to create a meal consisting of ravioli with butternut squash, goat cheese with pine nuts and brown butter sauce, as well as pan-seared arctic char with farrow and fennel sauce. For dessert, the team prepared a ricotta cake with triple berries and lemon. The challenge was made tougher by the fact that teams did not have access to running water or electricity.
"We hoped to win, but never expected it," said Manchester. 
"We are just really excited. It took a lot of hard work to get here and win," added Afzali.
The four students, who are enrolled in Chef Nancy Iannacone's culinary program on the Schoharie CTE campus, won scholarships to pursue further culinary education in college and a $5,000 scholarship to pay their way to the national competition on April 27-29 in Providence, Rhode Island. 
National event touted as premier restaurant management and culinary arts competition
During the National ProStart Invitational, nearly 400 student competitors put their skills to the test in front of industry leaders, National Restaurant Association trustees, state restaurant associations and family and friends—all with hopes of earning coveted scholarships from the nation's premier culinary and restaurant management programs.
"I am looking forward to the whole thing—meeting people and seeing how we can do," said Matthews.
State ProStart officials have volunteered their time and expertise to assist in preparing students for the national event. They also will put the team's winning recipes in the National Restaurant Association cookbook. 
"It's going to be a lot of hard work and practice, but we're going to do it," Manchester said.