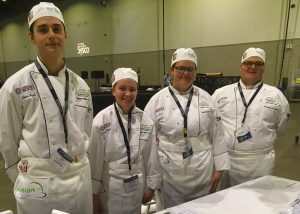 A student team from the Capital Region BOCES Career and Technical School recently cooked up a Top 10 finish in "the country's premier secondary school culinary competition."
High schoolers Jovan Afzali of Berne-Knox-Westerlo, Devlan Matthews of Schoharie, and Alexia Torres and Katelyn Manchester of Cobleskill-Richmondville placed ninth out of 46 teams from across the country in the National ProStart Invitational held in Providence, Rhode Island on April 27-28, 2018.
In competition, students had 60 minutes and limited resources to prepare a gourmet meal. This year's menu included butternut squash and goat cheese ravioli with brown butter sage sauce, pan-seared arctic char with tomato butter sauce, and toasted almond ricotta cake with lemon curd and triple berry coulis.
"It's crazy to think a small school from Schoharie won ninth in our nation against 46 other teams," Torres said. "What we did this year shows that hard work and dedication pays off in the end. I am very excited to go back next year and rock it."
The National ProStart Invitational is focused on restaurant management and culinary arts. During the the competition, nearly 400 students put their skills to the test in before industry leaders, National Restaurant Association trustees, state restaurant associations and family and friends—all with hopes of earning coveted scholarships from the nation's premier culinary and restaurant management programs.
The Capital Region BOCES team, led by CTE culinary teacher Chef Nancy Iannacone, won the state ProStart tournament in March 2018 to advance to the national event.