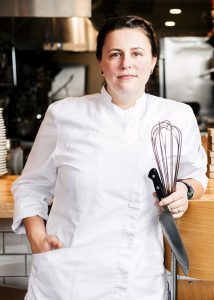 The recipe for winning the Food Network's hit television show Chopped includes a dash of energy and drive, a cup of desire, a gallon of talent and a smidgeon of time at our Career and Technical School.
At least this was the case for Michelle Hunter, a 2007 graduate of our Culinary Tech Prep program and Scotia Glenville Central School District, who combined those  "ingredients" and brought them to a boil Tuesday evening to win Chopped.
"It was a nail-biter watching. They were some very difficult baskets not to mention the time restraints.  It was exciting to watch her compete at this level.  Her creativity and use flavor profiles and textures were impressive," said Capital Region BOCES Chef Paul Dolan, who taught Hunter during the 2006-07 school year.
Hunter, who graduated BOCES as Michelle Young, bested three other competitors from around the country in a competition that pits chefs against each other in a timed-battle to develop a full meal using baskets combining odd foods — think Ramen noodles, Red Hot candies and flan to create one dish — to developing a winning recipe.
"I am so very proud and happy for her. I knew she could do it," said Capital Region BOCES Mark Brucker, who taught Hunter during the 2005-06 school year and made the taped prediction of her success to an area reporter Tuesday afternoon.
For her part, Hunter said the experience on Chopped "was very stressful."
"But I did it to really challenge myself and do something outside the box and that it was," she said.
Her appearance on Chopped wasn't her first dalliance with culinary competitions. Hunter was a SkillsUSA competitor at BOCES, testing her culinary and pastry skills at the regional and state SkillsUSA competitions against her high school peers.
"I have done a lot of competition in BOCES for SkillsUSA and I did a few after that and it taught me to prepare and over plan to make sure the timing was right. I like to over-prepare but I couldn't do that with Chopped. You can't plan anything or over-prepare, you are just there competing."
As to her time at BOCES, Hunter said it affirmed for her that cooking was a right career choice and gave her great preparation for college and life.
"I grew up in restaurants my entire life. My parents owned a couple of restaurants and when I told them I wanted to go into the industry, they were not thrilled… going to BOCES was a nice in between to make sure it was what I wanted to do with my life and make my parents happy," said Hunter, whose parents owned Rosario's and later Sonny and Jeff's in Ballston Spa.
"My parents saw me coming home from BOCES at night all excited and happy and that put them at ease," Hunter said.
Besides the affirmation that a career in the kitchen was right for her, Hunter said attending BOCES helped make her the chef she is today.
"BOCES gave me a lot of real-life experience for culinary school and restaurants," she said. "Going to BOCES gave me a great boost in my college and career."