Program credited for helping "build sustainable pipeline of qualified technicians."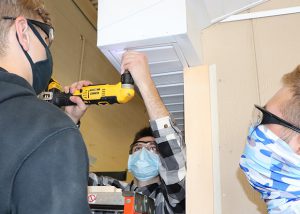 Our Commercial Construction/Heavy Equipment program has been recognized by the national Associated Equipment Distributors Foundation (AEDF) for its commitment to students and the development of the industry's workforce. 
The two-year Career and Technical School program prepares high school juniors and seniors with the knowledge and skills needed to enter the construction and equipment operator industries or pursue further education in college or technical school. Students learn everything from equipment operator and maintenance skills to how to construct a building. Along the way, they earn valuable certifications such as those from the Center for Construction Education and Research (NCCER) that are recognized nationally by contractors and employers, from the Occupational Safety and Health Administration (OSHA) and in first aid.
The AEDF accredits post-secondary equipment technology programs and recognizes high school construction/heavy equipment program to help build a sustainable pipeline of qualified technicians. It is the leading organization funding industry-specific research to advance the importance of workforce development and it shares the data with legislators, educators and other stakeholder.
"This is a great recognition for our students and teachers," said Jeff Palmer, Career and Technical Education director. "It shows the hard work we as a community have put into giving our students a bright future."