SkillsUSA officers were recently sworn-in at each of our three Career & Technical schools and conducted their first official acts as officers. Looking on throughout the tradition-rich ceremonies were parents, friends, classmates, teachers and administrators.
SkillsUSA is a national organization for career and technical education students that promotes personal and professional growth in such skills as communications, interpersonal abilities, time management and teamwork, and offers them the opportunity to showcase their knowledge and strengths through competitions at the local, regional, state and national levels.
Congratulations and thanks to each of you for taking on these leadership roles!
Albany Campus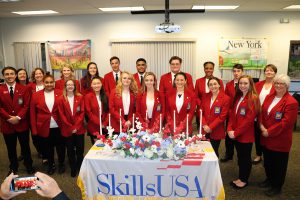 Morning Officers
Co–President–Brianna Beisly, Nurse Assistant II, Berne-Knox-Westerlo
Co–President–Justin Firstiun, Nurse Assistant II, Ravena-Coeymans-Selkirk
Treasurer–Natalie Vogel, Culinary Arts I, Guilderland
Secretary–Sidney Sciocchetti, Nurse Assistant I, Mohonasen
Parliamentarian–Caroline Lukasik Culinary Arts II, Shenendehowa
Historian/Photographer–Mackenzie Heath, Internet Applications, Schoharie
Community Service Liaison–Sara Walton, Criminal Justice, Shenendehowa
Communications Officer–Melody Francis, Culinary Arts I, Niskayuna
Afternoon Officers
President–Justin Colucci, Criminal Justice II, Duanesburg
Vice -President–Dominick Dennis, Nurse Assistant I, Cohoes
Treasurer–Ashley Gifford, Nurse Assistant II, Voorheesville
Secretary–Taylor Murphy, Cosmetology II, Shenendehowa
Parliamentarian–Joshua Lawton, Carpentry Services, South Colonie
Historian / Photographer–Emily Simon, Criminal Justice I, Schalmont
Community Service Liaison–Kierra Blair Leak, Internet Application II, Cohoes
Center for Advanced Technology @ Mohonasen (CAT)
Morning officers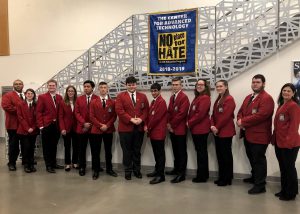 President–Richard (RJ) Porter, Welding, Cobleskill-Richmonville
Vice President–Jacob Woodward, Welding, , Niskayuna, 
Treasurer–Julie Goodrich, Entertainment Technology, Cobleskill-Richmondville
Secretary–Jilli Mitchell, Entertainment Technology, Voorheesville, 
Parliamentarian–Ben Whitt, Welding, Middleburgh, 
Community Service Liaison–Carlee Badger, Sterile Processing, Mohonasen
Afternoon officers
President–Cole Misuraca, Game Design and Implementation, Ravena-Coeymans-Selkirk
Vice President–Don LaTourrette, Welding, Schoharie
Treasurer–Anastasia Cater-Smith, Game Design and Implementation, Schoharie
Secretary–Davie Penid, Game Design and Implementation, Niskayuna
Parliamentarian–Ian Lansing, Game Design and Implementation, Schoharie 
Historian/Photographer–Jordan Latter, Game Design and Implementation, Berne-Knox-Westerlo
Schoharie campus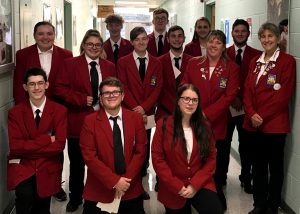 Morning officers
President–Madison Bell, Criminal Justice, Schoharie
Vice President–Logan Stephens, Culinary, Middleburgh
Parliamentarian–Gilleein Mastrianni, Criminal Justice, Cobleskill-Richmondville
Secretary–Michaela Kincaid, Criminal Justice, Cobleskill-Richmondville
Treasurer–Dekota Gage, Culinary, Cobleskill-Richmondville
Photographer–Sarah Francis, Culinary, Schoharie
Recorder–Richard Rowlinson, Culinary, Cobleskill-Richmondville
Co-Treasurer–Patrick Hoop, Construction/Heavy Equipment, Middleburgh
Afternoon officers
President–Brianna Krzyzewski, Criminal Justice, Schalmont
Vice President–Hunter Bouck, Criminal Justice, Schoharie
Co-Treasurer–Jillian Schoenherr, Culinary, Schoharie
Parliamentarian–Matthew Barnard, Culinary., Duanesburg
Photogrpaher–Schuyler Bradshaw, Culinary, Duanesburg
Secretary–Conner Snyder, Culinary, Schoharie