Aspiring nurses, graphic designers, chefs, contractors and fashion designers are among this year's SkillsUSA student leaders at our Career and Technical School Albany and Schoharie campuses.
During a tradition-rich ceremony, the officers were sworn-in and conducted their first official acts as SkillsUSA officers.
2020-21 Albany Campus SkillsUSA Officers
Morning Officers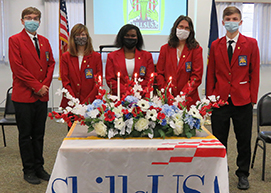 President Jacob Gilmore, Two-Year Sequence of Health Careers, Burnt Hills-Ballston Lake (BHBL)
Vice President William Rodriguez-Lopez, Automotive Trades Technology, Schenectady
Treasurer Luke DaBiere, Auto Body, Shenendehowa
Secretary Michael Zobre, Criminal Justice, Shenendehowa
Parliamentarian Kennedy Nautel, Culinary Arts, Niskayuna
Historian/Photographer Emily Burdikoff, Digital Media Design, BHBL
Community Service Liaison Lashawn Ogilvie, Cosmetology, South Colonie
Afternoon Officers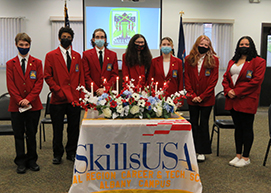 President Jada Doedema, Culinary Arts, South Colonie
Vice President Jocelyn Howe, Global Fashion Studies, Mohonasen
Treasurer Aliyah Colon, Culinary, Schalmont
Secretary Ashlyn Knapp, Pet Tech, South Colonie
Parliamentarian Sa-id Jones, Electrical Trades, Mohonasen
Historian / Photographer Matthew Bellinger, Culinary, Shenendehowa
Community Service Liaison Justice Jacobs, Food Service, Bethlehem
Schoharie Campus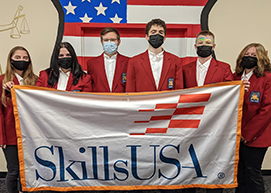 President CJ Thomas, Criminal Justice, Middleburgh
Vice President and Secretary Erin Haugh, Criminal Justice, Cobleskilll-Richmondville (CRCS)
Parliamentarian and Historian/Photographer Britney Beisly, Two-Year Sequence of Health Careers, Schoharie
Treasurer and Community Service Liaison Cynthia Viscosi, Culinary Arts, CRCS
SkillsUSA is a partnership of students, teachers and industry working together to ensure America has a skilled workforce. SkillsUSA members earn valuable skills they can apply, not only in their careers, but also as leaders in their communities.