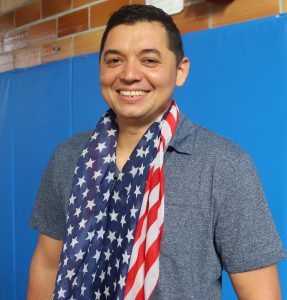 Javier Villatoro, who completed our English as a Second Language (ESL) program this summer and is currently enrolled in the High School Equivalency (HSE) program, was recently named Student of the Year by the New York Association for Continuing and Community Education (NYACCE).
Villatoro, of Delmar, was nominated for the award by teacher Octavio Lo Piccolo who said "In my 20 years of teaching ESL, I have met only a few students like Javier Villatoro."
"He is a unique person who has overcome high obstacles to reach his goals. Javier is intelligent, driven, persistent, and reliable… In Honduras, he attended school up to ninth grade, but could not continue because he had to support his family," Lo Piccollo said.
Villatoro is a husband and father, and works full-time at Hooked Seafood Market in Latham while attending classes at BOCES. He is also a member of a regional soccer club.
"His dream is to become a U.S. citizen and own his own restaurant. I think he will succeed because he is motivated, honest, friendly, charismatic, willing to learn, to sacrifice and work hard," Lo Piccollo said.
Villatoro said he is humbled by the honor.
"Learning English was important to me because I want to get my high school diploma and, mainly, improve my English," he said.
"Learning English is hard. I am an adult. I have so many responsibilities. I have a family and so much stuff to take care of. Going to school at the end of the day is a big commitment, but it has been good," he said.
Villatoro praised Capital Region BOCES and the adult education program.
"For me to be learning with people from countries from around the world, like I am, is unbelievable. I didn't see that in California. When I took classes there, if you were from Latin America you were with them. Asians went to school someplace else. Being around people from so many countries here is great," he said.
He also had high praise for his teacher, Lo Piccollo.
"Octavio has been a huge support for me and is a person I see [as a role model] for my future. He did the same thing I tried to do by emigrating here. He is an amazing teacher, an amazing person," he said.