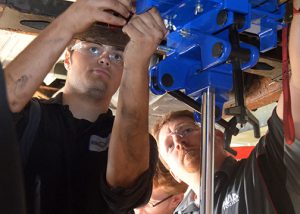 Adults looking to expand their manufacturing skills and advance their careers will benefit from our new Certified Production Technician (CPT) program.
This program, in partnership with The Business Council of New York State, will include an eight- to 12-week-long certificate program.  Included are five individual certificate modules:
safety
quality practices and measurement
manufacturing processes and production
maintenance awareness
green production
Funding through the Key Bank Foundation and the Center for Economic Growth will support a number of the courses and marketing of this new program.
The CPT program is an industry-recognized credential of the Manufacturing Skills Standard Council (MSSC), and is recognized across the country by industry and higher education as a high quality program preparing the manufacturing workforce.
Learn more about the Certified Production Technician (CPT) program.