Our Career and Technical School drew interest from near and far during the 2019-20 school year with two separate and distinct delegations looking to model their own programs after the learning taking place in our region.
Inspired by our "real-life learning"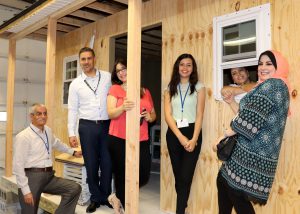 In July 2019, a delegation of educators from Palestine toured our Albany Career and Technical School Albany campus, discovering how "real-life learning" truly means real life—complete with large trucks, engines and welding booths.
The delegation, guests of the U.S. Department of State and the International Center of Capital Region, was in America to learn about the variety of colleges and institutions of higher learning in the U.S. and to meet with high school administrators and faculty to discuss education pathways to college and technical schools.
Ayah Atira of the American Academy in the West Bank said vocational training is common in Palestine, though not to the level offered at Capital Region BOCES and is not free to high school students.
"These are great programs," she said.
Atira said that schools in America and Palestine face the similar problem of families who would rather their children focus on becoming engineers or pursue "white collar" vocations, instead of taking advantage of all that career and technical education can offer.
NY State Department of Corrections taking a page from our book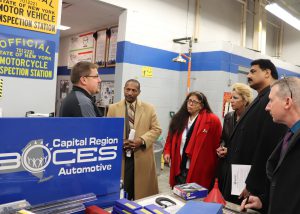 In December 2019, New York State Department of Corrections leadership toured our Albany Career and Tech campus with an eye toward developing an automotive technician initiative in their institutions.
New York State Department of Corrections Deputy Commissioner for Program Services Jeff McKoy was joined by Joseph P. Joseph, assistant commissioner for program services, Emily H. Bessette, director of education, Valerie Franz, assistant director of vocational education and Dan Evans, occupational regional supervisor, in touring our automotive labs and meeting with Automotive Trades Technology,  teachers Brian LaCroix and Scott Tessier.
LaCroix detailed the multiple certifications BOCES automotive students graduate with (including, for some students, college credit), career growth and earning potential, along with the essential skills they gain in using specialized tools and equipment, customer service and shop management.