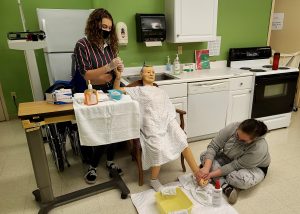 While many high school students choose career and technical education to prepare for careers in the skilled trades and in college, others come to us for the skills to help them specialize or advance up the ranks in the military.
This is true for Colonie High School senior Kayleigh Rittner, a student in Two-Year Sequence of Health Careers, who is enlisted in the Air Force Reserve at Westover Air Force Base.
"I want to specialize in disaster relief with the reserve. This program will help me advance in my career," said Rittner.
Jonah Stricker, a Niskayuna junior studying culinary arts, said BOCES offers the right recipe for his future: "I like cooking and this will help me become a chef in the military."
And for Hunter Bouck, a senior studying criminal justice, his experiences learning at the Schoharie Campus will help him advance in the Army National Guard.
"I am going into the National Guard and then on to college through the National Guard," said Bouck. "I want to be a DEC officer. The skills I am earning in the Criminal Justice program will help with both."
Along with current students, several BOCES alumni, such as 2018 Criminal Justice graduate John Morrell, have found success in the military.
In 2019, Morrell returned to BOCES where he talked with current students about his job protecting the president's helicopter, Marine One.
"He's doing exceptionally well," said Criminal Justice Teacher Gerald Place, who taught Morrell and welcomed him back into the classroom.