Recruitment now underway for Entertainment Technology at Proctors Theatre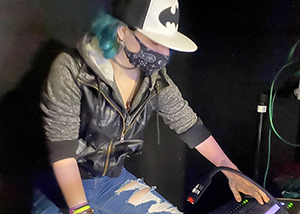 Many dream of gaining fame and fortune on Broadway or in Hollywood, but how many students can say they have learned the tools of the trade in a grand, historic nationally known theater?
That is exactly how nearly two dozen students in our Entertainment Technology program—now in its second full year at Proctors Theatre in Schenectady—are learning.
"I love Proctors. I have been going here since I was five and I want to get a job here, I just don't know doing what yet. When I found the course, I knew it was perfect for me," said Scotia-Glenville junior Bryan Reed.
Students meet daily in the Addy Theatre, the Media Lab, rehearsal spaces and in the main theater to work on productions—such as The Donna Summer Musical staged last summer—and learn from crew members about a host of backstage and behind-the-scenes matters.
Prepare for Careers in the Entertainment Industry
The Entertainment Technology program prepares students for careers in the industry—whether in theatre, film, music or other media. Over two years, students learn about the many jobs and the skills needed to work in the entertainment industry. These include: set design/carpentry, lighting/stage electrics, sound design/recording, costuming, stage management, film/media, and more. 
Additionally, students can earn up to 16 college credits at Fulton Montgomery Community College through the program.
"Most of my friends are theater geeks like me and they got me into theater. I wanted to learn more about lighting, sound, the actual production, so I took this program and I love it," said Grace Coirin, who attends the program from Niskayuna.
"I love theater and I want the experiences this program offers so I can see if I want to go into this as a career. So far, it's been real fun and I have learned a lot," added classmate Michael Egan of South Colonie.
Learn More About Our Entertainment Technology Program
Recruitment is underway for the 2022-23 school year. Learn more about the Entertainment Technology program and the other 40+ programs offered through our Career & Technical School.