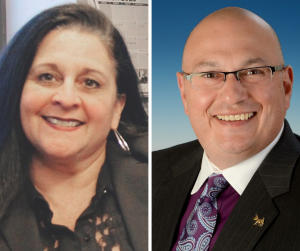 For the second year in a row, Capital Region BOCES' District Superintendent Anita Murphy and Senior Executive Officer Joseph P. Dragone, Ph.D. have been ranked among the state's most powerful and dedicated educators, earning recognition in City & State magazine's "Education Power 100."
This distinction is based on their achievements, influence in policy-making, and connections to key government officials and the constituencies they represent.
"On behalf of the entire Board of Education, I'd like to congratulate Anita and Joe along with all of the honorees for making a difference in the lives of students across New York state," said Capital Region BOCES Board President Nancy delPrado.
"Since they joined Capital Region BOCES in 2017, their vision and leadership has made our organization stronger," delPrado continued. "Anita and Joe are most-deserving recipients of this distinction. They are truly an inspiration to our staff, students, business partners and educators statewide."
Anita and Joe both work tirelessly to create a more skilled workforce, a vibrant regional economy and more opportunities for students to find success in school and life.
They have been pivotal to the introduction of the new Airline Drive Academy, a state-of-the-art learning environment for our k-8 students, new Career & Technical Education programs, an evidence-based academic program to support students with autism and catalysts for modern learning spaces for students from throughout the Capital Region.
They are also outspoken champions of our adult education programs and continue to generate more opportunities for adults to learn including a new Literacy Zone in Albany's Arbor Hill to offer training and essential wrap-around services and partnerships that are expanding the learning happening at the Capital South Campus Center in Albany's South End.