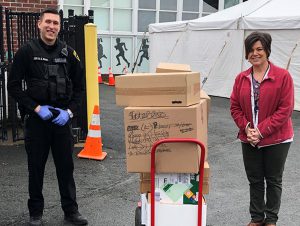 Capital Region BOCES has partnered with school districts across the region to provide much-needed supplies to those working to combat COVID-19.
Personal protective equipment and supplies—gloves, N-95 masks, gowns, thermometers, face shields, surgical masks, gowns, disinfecting wipes and hand sanitizer—were  gathered from our Adult Practical Nursing, Auto Body, Cosmetology and Two-Year Sequence of Health Careers programs, and from the Bethlehem, Cohoes, Middleburgh, Mohonasen, Schalmont and Schoharie school districts.
The following area hospitals and first responders received these essential supplies: Albany Medical Center, Cobleskill Regional Hospital, Ellis Hospital, St. Peter's Hospital, Albany County Emergency Management, Rensselaer County Bureau of Public Safety, Schenectady County Emergency Management and Schoharie EMS.
"Many of us are nurses and understand the tremendous stress our medical providers are under. It only makes sense to help the medical providers of the region in their time of great need," said Adult Practical Nursing Principal Paula Negri. "These supplies are important to the education of our students, but they are more important now in stemming the spread of this pandemic. It is great that our component districts could join in this effort as we all work to end this pandemic and bring about a brighter, healthier future."