The superintendents of the Capital Region BOCES area, who represent approximately 80,000 students in Albany, Saratoga, Schenectady, Schoharie counties have produced the following statement on how working together with BOCES helps meet the essential needs of students and other people they serve.
BOCES delivers for students and taxpayers — in good times and bad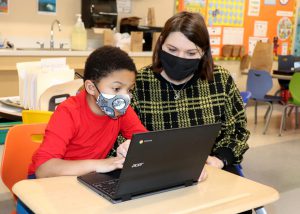 BOCES across New York State have long been an engine for economic development, student success and savings for taxpayers. Regionalization — school districts and municipalities coming together to meet the needs of the people they serve — works. Throughout the uncertainty and challenges of the ongoing COVID-19 pandemic, cooperation in this manner has proved essential. Capital Region BOCES and the 24 school districts that comprise it have taken regionalization to new levels. This has resulted in a lifeline for tens of thousands of students in our region, keeping them learning, often at school in-person, and connected to critical services such as meals, technology and mental health support. It would have been impossible for an individual school district to replicate what has been accomplished entirely on its own.
As we proceed through an unprecedented time and a period of fiscal challenges, the superintendents of the Capital Region BOCES school districts are united in their support for continued regionalization through BOCES. The investments that our schools and our state make in shared services through BOCES have proven so valuable for students and taxpayers and must continue. Before the pandemic, we knew that this type of cooperation was effective and that BOCES is the mechanism for it. Today this is beyond question.
Working Together in a Pandemic
Throughout the COVID-19 pandemic, the 24 districts in the Capital Region BOCES worked together in critical and unprecedented ways and relied on existing BOCES services to meet the needs of the moment. For example:
Our shared Food Services program provided more than 70,000 meals to students.
Students accessed more than 8,600 devices through our cost-effective, regional approach to purchasing.
In collaboration with the teachers and educational leaders of our region, substantial professional development was provided, including in remote learning, as well as shared curriculum and enrichment resources.
BOCES helped lead the way in online videoconferencing and distance learning with equipment, support and guidelines.
Students were able to access critical teletherapy resources through BOCES services and technical support.
BOCES helped coordinate regional childcare plans at the beginning of the pandemic

in the early spring of 2020.
As schools worked to meet the necessary health, safety and learning criteria of the state's reopening guidance last summer, the 24 districts of the Capital Region BOCES collaborated on a daily basis. We credit this work and the support of teachers and school professionals across the region, with maximizing learning and in-person attendance in our schools this year.
Delivering for Students Every Day
Long before the pandemic, we knew that our collective efforts through BOCES paid dividends for students and taxpayers in our region and beyond every day — and that this will continue to be the case in the future. Whether this work is behind the scenes (such as cooperative bidding or technology support) or with students in our classrooms, BOCES is integral to our educational systems and communities. Any effort to reduce investments in BOCES would come at the peril of the success of our students and the effective use of precious taxpayer dollars. Consider:
Taxpayers in the region saved $600,000 alone last year through cooperative bidding through Capital Region BOCES.
Students have access to college credits in 49 Capital Region BOCES Career & Technical Education programs – many of which are connected to sectors that are essential to our region's economic growth such as construction, manufacturing, healthcare and transportation.
Our students benefit from BOCES' partnerships with 300 businesses in the
region, working together to meet the demands of today and prepare the workforce of tomorrow.
BOCES services such as health and safety, shared transportation, special education, mental health and information technology ensure health, safety and learning for children in our communities in ways that individual school districts would not be able to do on their own in terms of capacity and affordability.
Looking to the Future
Our school districts are focused on meeting the varied needs of children amid the current public health crisis. We want to make sure that students continue to learn and have access to all of the services they need to be healthy today and successful tomorrow. BOCES is a critical element in this effort and we must continue investments in what works. As we look to the future, we know that this experience has proven that we can accomplish extraordinary things together. The superintendents of the Capital Region BOCES area are united in our commitment to increasing opportunities for students and preparing them to power the economy of tomorrow while making the very best use of taxpayer dollars. We cannot do it without BOCES.
24 United: Our Mission Remains the Same
See how Capital Region BOCES has led the charge throughout the COVID-19 pandemic, working with school leaders to navigate challenges and meet the needs of our students and others we serve: