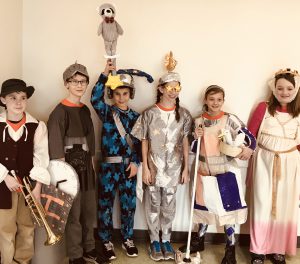 Congratulations to a team of fifth-graders from Hamagrael Elementary School (Bethlehem Central School District) on earning an award for outstanding creativity, along with an invitation to compete at the Odyssey of the Mind World Finals in May in Iowa. 
The team was the recipient of a Ranatra Fusca Award at the New York State Odyssey of the Mind tournament in April.  
"This is a rare form of recognition of particular creativity in a solution," said Capital Region BOCES' Odyssey of the Mind Regional Coordinator John Florussen. "It highlights completely novel approaches, that begin from well outside the box."
There aren't a given number of these awards doled out; instead, they are only bestowed upon teams that impress the judges in this very particular way.
The team's ingenious costumes, solution, props and the fact that each team member had a notably equal contribution to their team solution earned them this accolade. 
About Odyssey of the Mind
Odyssey of the Mind is an international, creative problem-solving program for students in kindergarten through college. It teaches students to learn creative problem-solving methods while having fun in the process. Hundreds of thousands of students in all 50 states and over 30 countries participate annually.