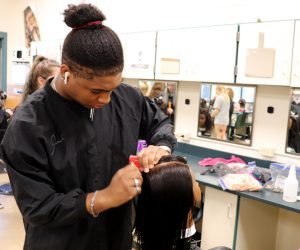 Josiah Courtwright of Niskayuna is taking his love of hair styling to a new level, earning certification as a cosmetologist at our Career & Technical School as a "back-up" to his dreams of becoming a real estate tycoon.
"I plan to go into real estate, but learning cosmetology gives me something I can make money at while I am young and still getting established," Courtwright said.
Gaining skills through our BOCES career and technical programs to serve as a career back-up is not uncommon. Past Career & Technical School graduates have used cosmetology skills to pay for a college degree in journalism, used culinary education as a pathway to a career as a nutritionist and studied fashion as a back-up to a career in law enforcement.
For Courtwright, hair styling was just something that grew on him.
"It's something I am good at, my mother is into it and I  am good at it," he said. "It's fun to use your skills to do something that people like."
Josiah Courtwright is one of more than 100 students from across the Capital Region enrolled in the our cosmetology program, gaining the skills and 1,000 hours of training and experience needed to take the New York State licensure exam. The experience prepares students to enter the workforce upon graduation or to go to college and a have a leg up on future business competitors.