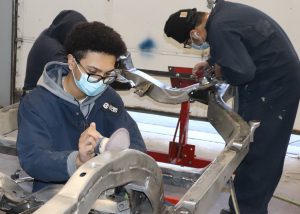 Students in two of our automotive programs are working together to bring to life every car lover's dream—a 1967 Corvette convertible.
Students in the Automotive Trades Technology and the Auto Body Collision Repair and Refinishing Technology programs are rebuilding and restoring the muscle car for an outside customer. Our school is paid a nominal courtesy fee for this sort of service along with the cost of parts and supplies.
Recently, students Will Charbonneau and Chase Ennis of Shenendehowa, Giovanni Roman of Mohonasen and Joel Pacheco of Schenectady were at work grinding a new frame for the vehicle. The work was in preparation for painting the frame black.
"It's awesome," Charbonneau said.
"It's great because we are getting real work that will make us ready to go into the workforce," added Pacheco.
Automotive Trades Technology Teacher Scott Tessier said the customer brought the car to the career and technical school last school year for some interior work.
"We got to looking at it and the frame was basically rotted out. The customer bought a new frame and brought it to us and gave us the go-ahead to do the work," Tessier said.
Once the Auto Body students are done with the vehicle, Tessier's students will re-place the body of the car on the frame and do mechanical work, such as changing it to a fuel injector system.
"It's a long-term project," Tessier said.