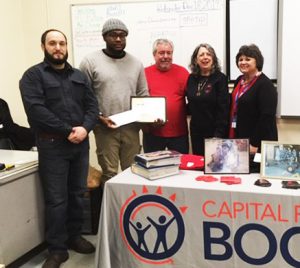 Adult Education welding student is this year's recipient of the Evan M. Schwarz Helping Hand Memorial Scholarship.
The $500 award was presented by the Schwarz family, welding teacher Don Mattoon and Career and Technical School administrators during a Dec. 18, 2019 ceremony.
"Kingsley's attendance, class participation and performance are outstanding," said Maria Huntington, supervisor of our adult education and programming.
Ubaka, who was born and educated in Nigeria and became a U.S. citizen in 2016, was lauded for his "enthusiasm, motivation, hard work, professionalism and excellent work ethics," by John and Donna Marie Schwarz, who present the scholarship to a welding student twice each year.
"Welding has been my dream and getting the opportunity to be in the Capital Region BOCES program has been my greatest achievement. Learning and growing from welding is a lifetime goal for me," Ubaka said.
Ubaka said he will use the scholarship to buy welding equipment and plans to pursue a career as a pipe welder in the off shore oil industry upon graduation in June.
The Evan M. Schwarz award was established in 2011 to honor Evan Schwarz, who studied welding at Capital Region BOCES while a Burnt Hills-Ballston Lake High School junior and senior, earned straight A's and has been described by his former teacher Mike Todd as "highly motivated, artistic and caring—just the type of student you'd want to have in your classroom."