Creativity, problem-solving and teamwork are at the heart of the Odyssey of the Mind program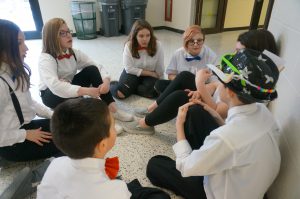 Creative and innovative solutions to a series of intriguing, open-ended problems were on display at this year's Region 7 Odyssey of the Mind tournament.
Annually, Capital Region BOCES helps prepare the school coaches, trains volunteers to judge the competition and produces this regional tournament. This year, nearly 600 student teams (grades k-12) from 15 area school districts participated in the day-long event on March 2 at Shenendehowa High School.
"It was an exciting competition with tons of creativity," said John Flourussen, the lead organizer for Capital Region BOCES, who, along with a team of dedicated volunteers from our own staff, school district team coaches, families and teachers make this Odyssey of the Mind event a reality for students.
Regional first-place champions (indicated in bold) will now advance to the state competition on March 23 in Binghamton. State champions are eligible for the world competition.
Odyssey of the Mind is an international creative problem-solving program that engages students in their learning by allowing their knowledge and ideas to come to life in an exciting, productive environment. Participants build self-confidence, develop life skills, create new friendships, and are able to recognize and explore their true potential.