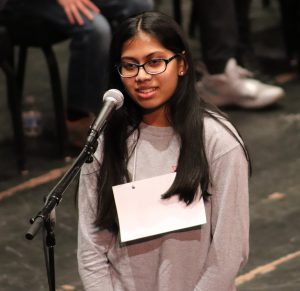 Our annual Capital Region Spelling Bee is an opportunity to celebrate the hard working students who study words and their origins.
After 50 rounds and 396 words, Shenendehowa seventh grader Jaeho Lee from Acadia Middle School correctly spelled the word "polyglot" to earn first place in this year's bee. The definition of polyglot is "a person who knows and is able to use several languages" — an appropriate word for a spelling bee champ! Lee now qualifies to compete in the Scripps National Spelling Bee in Maryland in late May. 
The event's runner-up was Kingston Czajkowski, a fifth-grader from Cairo Durham Middle School. Eighth grader Julia Sealing, also from Shenendehowa, was the third place finisher.
Thank you to the Times Union, the official event sponsor, as well as Hannaford Supermarkets, Proctor's Theatre, The Sage Colleges and the Upper Hudson Library System, whose support is instrumental in presenting the regional spelling bee each year.
View a gallery of photos from this year's Capital Region Spelling Bee at Proctors Theatre.