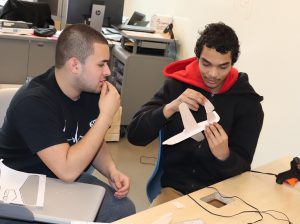 Students throwing wooden planes in the halls of the Center for Advanced Technology (CAT)?! Far from hijinks, this was A-okay with their teachers.
Students in our Engineering Technician program, based at the CAT building in the Mohonasen school district, were testing their latest project, which challenged them to design, cut and manufacture from scratch balsa wood planes with proper weights and get the planes to fly.
Students researched possible designs — some were biplanes, some were turbo jets, one, still under construction, is designed after a Star Wars Incom T-65 X-Wing.
"I like everything about this project," said Luis Marrero, a student from Amsterdam who attends the program. "I like the problem-solving skills used and how you have to make adjustments and figure it all out."
"I like the hands-on work and the feeling of accomplishment," added classmate Jordan Hickman of Schenectady.
Launched in the 2018-19 school year, the innovative Engineering Technician program teaches students about the semi-conductor industry, as well as clean room protocols, safety, electronics, hand tool usage, automation, tool extraction and repair, valve operation and repair and much more. At the end of the year, the students take an Electronics Technician certification exam and are prepared for jobs that involve critical thinking.