New k-8 school offers state-of-the-art learning environment for our students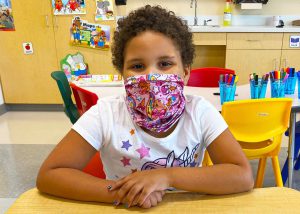 "It's awesome!" "I like the colors!" "I really like the new gym!"
These are just some of the "rave reviews" from students attending the new Airline Drive Academy, which opened for learning in September at 10C Airline Drive in Albany.
With the new school smell still permeating the air, students, faculty and staff got right to the business of learning, which has been boosted tremendously by the state-of-the-art facility that replaced two separate schools—the Fulton and Rotterdam academies.
New features, more collaboration
"Being a combined k-8 program, alone, offers a much better learning environment," said Principal Barb Lounello. "When we are out of the COVID (situation), students in the older and younger grades will be able to work together as reading partners and in peer-buddy relationships. Teachers will also have the ability to work together more closely, creating a better 'vertical alignment' of what students learn and do as they grow older and move from grade to grade."
Airline Drive Academy also offers more space and technology, including designated "flex"  and occupational therapy rooms. Faculty members say these and other new features are increasing the educational experience for students.
Partnerships help support the whole student
In designing the new school, space was also dedicated for Northern Rivers, a New York State Office of Mental Health agency, to operate a school-based health service for students with social, emotional and behavioral needs.
Additionally, a community liaison will soon join the Airline Drive Academy team, offering students' parents and guardians resources to help them better support their children's educational development. This staff member will also provide outreach and establish connections for families with service providers in their local communities.
Take a video tour of Airline Drive Academy
Here we grow… again!
Aging facilities for both the special education and career and technical education programs has been a long-standing problem for our BOCES. Many of our students are the ones who struggle the most and deserve the very best from us on all fronts. 
Plans are underway to create a new Career and Technical Education facility and special education high school that will also house the TEACCH/Autism program near new Airline Drive Academy. Groundbreaking is expected in 2021 with the goal of opening these additional schools for learning in September 2022.