Once 'lost,' Joe Tetreault found his passion and career working with metal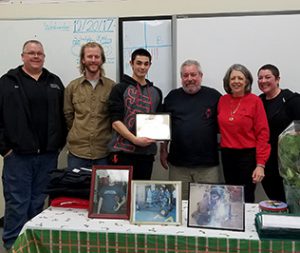 Welding student Joe Tetreault is the latest recipient of the Capital Region BOCES Career and Technical School Evan M. Schwarz Helping Hand Memorial Scholarship.
The $500 award was presented by the Schwarz family, teacher Jesse Novak and CTE administrators during a recent ceremony in the CTE welding classroom.
Tetreault, 21 and a resident of Altamont, attends the part-time adult welding program that runs from September to June, while also working odd jobs. He chose the program after attending college and feeling "lost in the world, like I had no place." He now aspires to land a full-time job in the industry upon gradation in June.
He was chosen by CTE faculty and administrators for his passion for the trade.
"Working with my hands and creating something I can call my own is such a rewarding feeling. There's not a single day I don't think about welding. Even when I'm taking my dog out on a hike and we cross a small metal bridge, I stop to inspect the welds and think to myself, 'I can do better than that,'" Tetreault said.
Tetreault said he will use the funds to purchase additional welding supplies to make him more marketable upon graduation.
"The welding program at CTE has helped me a great deal. I'm learning something new each and every day thanks to the great staff and equipment BOCES has to offer," he said.
The award was established in 2011 to honor Evan Schwarz, who studied welding at CTE while a Burnt Hills-Ballston Lake High School junior and senior, earned straight A's and has been described by his former teacher Mike Todd as "highly motivated, artistic and caring — just the type of student you'd want to have in your classroom."
Besides learning the formal principles and industry standards of welding, Evan was creative and liked to design and construct attractive and functional pieces. He earned professional certifications in pipe welding, shielded metal arc welding (SMAW), flux-cored arc welding (FCAW)/plate welding, gas metal arc welding (GMAW) and gas tungsten arc welding (GTAW) equipment set-up and operation.
After graduation in 2006, Evan worked at the former Super Steel plant in Schenectady and earned membership in the ironworkers union.
The Schwarz family awards the scholarship twice a year at CTE, honoring students who have a passion for welding and a solid work ethic.