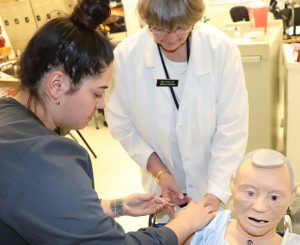 Aleeca Pino has wanted to be a nurse since she was 10 years old. Now, through our Adult Practical Nursing program, she is pursuing this career path and following her dream of helping others.
"I was taking care of my 99-and-a-half-year-old grandmother at 10 years old and I knew then that is what I wanted to do," said Pino, who commutes five days a week from Amsterdam to attend classes on our Albany Career & Technical School campus.
Pino, who currently works as a certified nurse assistant (CNA), decided it was time to take the next step up the career ladder and become a licensed practical nurse (LPN). 
"It's time to pursue my dream. I am going to become an LPN and then it's on to RN (registered nurse)," she said.
Pino said she enjoys the changing dynamics of healthcare and the ability to help others and make a difference. 
"It's something different every day and you get to meet a lot of people. It's never boring," she said.
As to her future, once she becomes a registered nurse Pina said she would like to work in labor and delivery.
"I have been in nursing homes so long; now I want to see people coming into life," she said.
Aleeca Pino is one of about 140 students enrolled in the full-time adult practical nursing class at Capital Region BOCES. The program launched in August and continues into June when the program will graduate its students into the world of being an LPN. The New York state-approved program encompasses 1,100 hours of classroom and clinical study and practice and prepares students to take the National Council Licensure Examination and apply to become a New York state LPN.