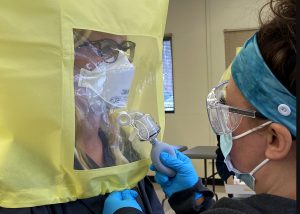 Students in our Adult Practical Nursing program recently took their first steps towards doing clinical rounds during a pandemic as they were fit tested for N95 masks.
This testing — administered by WellNow nurses with masks provided by St. Peter's Hospital — will allow student to take part in the clinical rounds that are an important part of their Adult Practical Nurse training. Participating in rounds is also a requirement for become a Licensed Practical Nurses (LPN).
Paula Negri, principal of the Adult Health Careers program, and her staff have been working dedicatedly with area healthcare institutions to get our adult nursing students back to doing rounds. Clinical rounds came to a halt locally last spring at the start of the pandemic. 
 "This is what we have been waiting for since day one," said student Abigale McKenzie, a former commercial loan officer who found her calling to nursing when her son was diagnosed with Type 1 Diabetes during this pandemic.
"I spent a lot of time in hospitals and with nurses and I realized that I really want to be there to help people," said McKenzie.
Fellow Adult Nursing student Khadijah Thompson was equally as excited to be tested.
"I love to help people… I am looking forward to rounds," said Thompson.
Clinical rounds are set to begin soon after the fit testing for the nearly 150 adult nursing students in our program is completed this month.