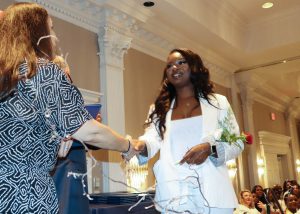 Many graduates of our Adult Health Careers program launch successful careers as practical nurses; however careers further up the nursing career chain are also a common destination.
Dozens of program alums have used their skills and training with us to become registered nurses (RNs) and even nurse practitioners. Many of the recent graduates of program aspire to do the same.
Take for example Davetta Simmons who proved to be the ultimate multitasker while learning in our part-time Adult Practical Nursing program. The Schenectady resident not only graduated from our program this June, but also from Schenectady County Community College with a degree in nutrition. Simmons plans to continue her studies at Hudson Valley Community College in the fall.
"I am going to HVCC for the RN program and I will work at Shaker Place as a practical nurse," said Simmons. "I enjoy nursing and want to continue my studies because I have a passion for helping others."
Fellow Class of 2022 graduate Milan Clark is also using the Adult Health Careers training as a springboard for future nursing success.
"I am starting my prerequisites for a registered nursing program right away," said Clark, who is also a Schenectady resident.
"I was a certified nurse assistant (CNA) in Maryland and I am staying with health care because I like people.  I like to help people and I like to talk," said Clark.
Both graduates said they feel well prepared to pursue their studies thanks to the education they received in our program.
"This BOCES program is a great program. They fight for you and every student and make sure you are prepared to succeed," Simmons said.
Learn About Our Adult Practical Nursing Program
One of the fastest growing and highest demand jobs in the nation, nursing is a career with many rewards for those looking for a challenge. Graduates of the program are prepared to enter one of the fastest-growing and most in-demand job markets in the nation. The U.S. Bureau of Labor Statistics projects a 9% increase in demand for LPNs between now and 2030. That, coupled with the fact that LPNs earned a median salary nationally in 2021 of $48,070, makes it the right time to enter this exciting field.
Our adult practical nursing classes are taught at the new Career & Technical Center, located at 925 Watervliet-Shaker Road in Albany. 
Learn more about Capital Region BOCES' adult practical nursing program, and dozens of other courses available to adult learners through our Career & Technical School.
New Adult Practical Nursing Session Beginning Fall 2022
A new session of this program is scheduled to begin Sept. 6, 2022 running through June 2023. Adults are encouraged to register now for the 10-month program by calling 518-862-4709.