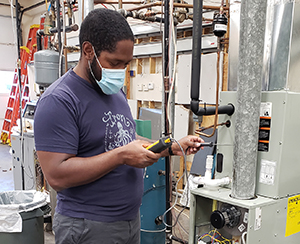 Recent graduates of our 10-month adult Heating, Ventilation, Air Conditioning and Refrigeration (HVAC/R) program have "turned up the heat" on their futures.
The program, offered regularly at our Albany Career & Technical School campus, offers learners the skills and connections they need to get a good start or promotion in this growing and in-demand industry.
Congratulations to our June 2021 Heating, Ventilation, Air Conditioning and Refrigeration (HVAC/R) grads:
Steven Bruno, Rensselaer
Manuel Gonzalez, Niskayuna
Christopher Leigh, Albany
Marlon Roberts, Albany
Dylan Smith, Schenectady
Antonio Tavares DeSilva, Delanson
Dylan Smith was hired by Crisafulli Brothers Plumbing and Heating Contractors Inc. and Marlon Roberts by Adams Heating & Cooling Inc. following a career fair hosted by BOCES earlier this year.
Christopher Leigh and Steven Bruno also found employment in the industry, while Antonio Tavares and Manuel Gonzales are now eligible for promotions with their current employers.
Skilled Trade Seeks Good Workers
Like most of the skilled trades industries, the HVAC/R industry is constantly seeking good workers.
"The industry is in need of people who want to work," said Terrance Bikowicz, residential HVAC manager for Crisafulli Brothers Plumbing and Heating Contractors Inc.
Don Abbruzzese, retired owner of Northeast Heating, Cooling & Refrigeration and an instructor at BOCES was more blunt.
"It's not an exaggeration to say we are in a crisis situation, not just here or in New York, but across the country," he said.
HVAC/R—An Industry With Growth Potential
The U.S. Bureau of Labor Statistics (BLS) projects employment of HVAC/R technicians will grow four by 2029 with HVAC technicians earning a median salary of $50,590 per year in 2020.
The job outlook is particularly strong for students "familiar with computers and electronics and those with good troubleshooting skills…as employers continue to have difficulty finding qualified technicians to work on complex new systems," federal labor officials have reported.
Learn About Our HVAC/R Program
The HVAC/R program at the Albany campus of the Capital Region BOCES CTE gives students a solid career foundation in the HVAC/R industry. In a state-of-the art classroom, students learn about ventilation, piping, refrigerants and refrigeration, furnaces and boilers.
Learn about training and certification available in Capital Region BOCES' adult HVAC/R program, and dozens of other courses available to adult learners through our Career & Technical School.