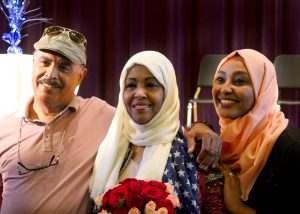 More than 60 adult learners were celebrated during a recent ceremony at Hackett Middle School in Albany for completing BOCES' High School Equivalency (HSE) or English as a New Language (ENL) programs.
The graduates, some of whom hail from such countries as Guyana, Kazahkstan, Albania, Myanmar, Sudan and Germany, were successful with rigorous coursework designed to help them re-direct their lives and give them a competitive edge in today's challenging workforce.
The HSE and ENL graduates are just some of the approximately 1,000 adult learners served annually by Capital Region BOCES. Many are pursuing education in post-secondary trade programs such as heating, ventilation, air conditioning and refrigeration (HVAC/R), welding and nursing.
"We are pleased to be able to offer these courses and provide adults across the region with a new beginning," said Dr. Valerie Kelsey, deputy director of career and technical education at Capital Region BOCES.
Olsa Bujari, an Albany resident and 2015 immigrant to the United States from Albania, recently completed the ENL program.    
"When I came here, I did not know anything but the alphabet and how to introduce myself," said Bujari. "English is not an easy language to learn… but I did it thanks to BOCES."
Bridget Liebson, a Ballston Spa resident and area cosmetologist, recently earned her HSE diploma through the BOCES program.
"When I was young, I was always busy. I never had time. I came [to the U.S.] with two young kids and I had a third. I went to cosmetology school and I always worked," said Liebsen, a native of Guyana. "Now that I don't have any kids at home, I had time to do this for myself."
Learn how we can help you earn your high school diploma, learn English or launch a new career.