Updated June 7, 2021
We hope you find this page useful to quickly find essential information as we welcome students back to school. Thank you for your help to ensure the health and safety of everyone in our school communities.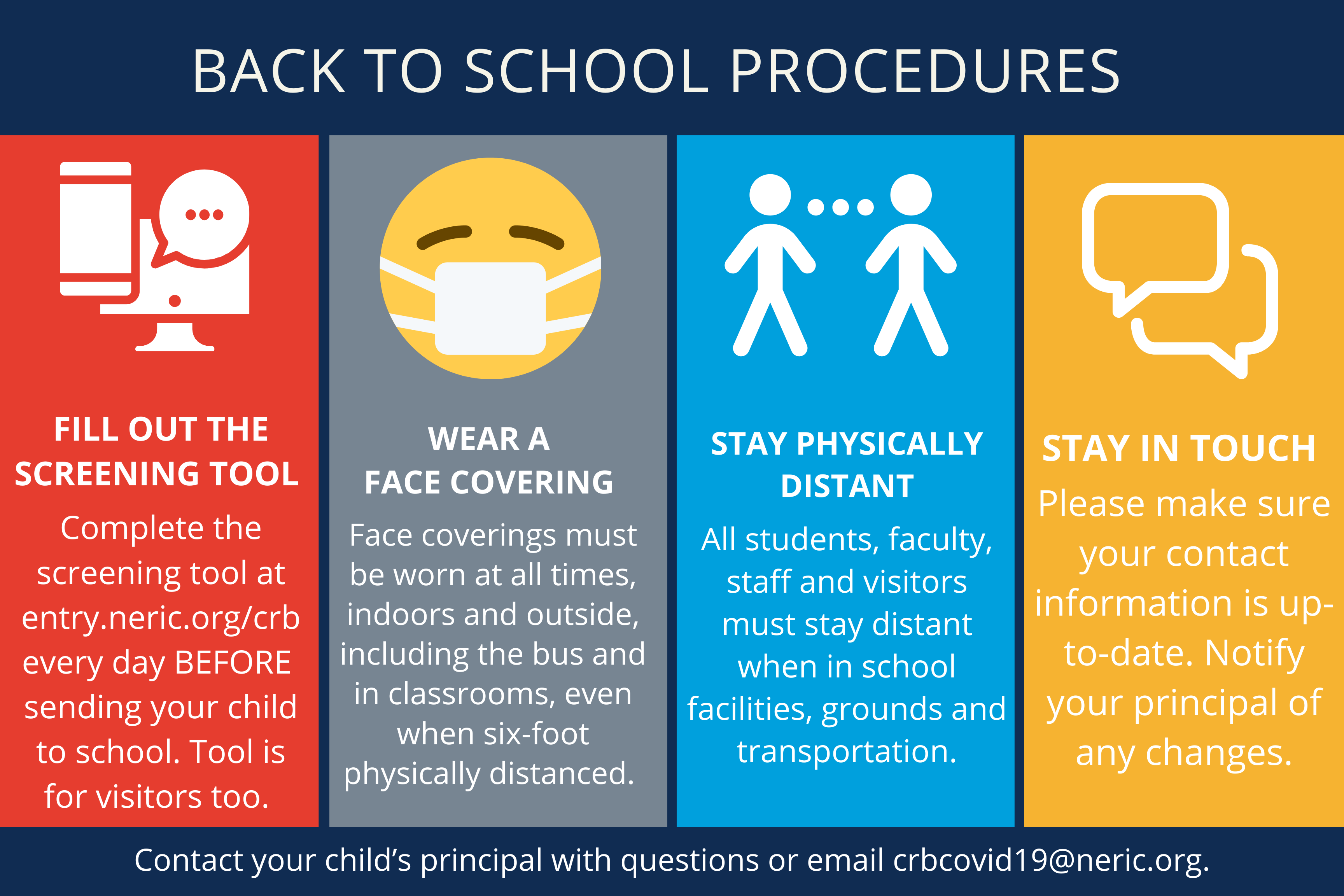 Complete the Health Screening Tool Every Day
Before Students Go to School
Students or their parent/guardian must complete Capital Region BOCES' health screening tool.
Access the tool at https://entry.neric.org/crb
Complete  the screening every day BEFORE getting to school.  
We understand some families may not have access to the internet, a device that connects to the internet, a thermometer or other reasons. We are here to help. If you are unable to complete the health screening tool from home please notify the school building principal so we can make other arrangements.
Step-By-Step Health Screening Tool Directions: 
Visit https://entry.neric.org/crb  from any computer or device.
Select location [school your child/student attends] and role ["student"] in the drop-down menu. 
Respond to all four questions on possible symptoms, testing, contact and travel and answer "yes" or "no" to each. Check the "attestation" box.
Enter your name and email. Students: enter your name and email; parents/guardians: enter your child's name and your email address. Enter a phone number if no email address. 
Click "Submit"  
Students may not attend school if they have had a temperature of greater than 100.0°F at any time in the past 10 days, even if they administered a fever-reducing medication and the student no longer has a fever.
What happens if the health screening tool is not completed before the student gets to school? 
Students are not permitted to attend class without completing the screening tool.
Upon arrival at school, an employee will take the student's temperature. 
An employee will contact the parent/guardian to finish the rest of the health screening.  
The student will remain in a supervised area until the employee is able to talk to the parent/guardian and finish the health screening.   
Face Coverings Must Be Worn at All Times  
Students, staff and visitors must wear face coverings at all times indoors, including on the school bus and in classrooms, even when six-foot physical distancing is possible.
Effective June 7, 2021, students, faculty, staff and other individuals are not required to wear face masks outdoors on school grounds. Nothing prevents anyone from wearing an acceptable face mask voluntarily on school grounds. 
We recognize that face coverings may be a challenge for students to wear all day, so there may be time for breaks, such as during meals, during warm weather or at various points in instruction when students are far enough apart.  
Face coverings are not required for students who are unable to tolerate one.
We allow and encourage students to use their own acceptable face covering. However, we are also happy to provide face coverings to students, if needed, at no cost. 
Watch a video on how to wear and remove a face covering:
 Maintain Social Distance 
All students, faculty, staff and visitors must maintain social distance while inside school facilities, on school grounds and while traveling to and from school. This practice complies with agency guidance. 
Parents/guardians must complete the screening tool to visit school facilities 
Prior to entering school facilities, visit entry.neric.org/crb to complete the health screening tool. 
Upon arrival at a school building, report to the front office to sign in. 
Be prepared to wear a face covering, maintain social distance and visit only the area related to the purpose of the visit. We appreciate your cooperation. 
Keep Your Contact Information Up-To-Date 
We will contact families using our Blackboard email, text and phone notification system for important updates and important. That's why it's critical to make sure your contact information is up-to-date. To make any changes, please contact the building principal or Chris Sikora at 518-464-6318.  
Transportation Safety
Capital Region BOCES is working to ensure health and safety during its transportation activities by complying with state-issued public transit guidance and New York State Education Department's School Reopening guidelines. Learn more about safe school transportation at our Reopening Plan.
Students, drivers and staff must wear acceptable face coverings at all times on school transportation (e.g., entering, exiting, and seated) and should maintain appropriate social distancing to the extent practicable. If students need a face covering they will be provided with one by the driver or monitor prior to entering the vehicle.
Students whose physical or mental health would be impaired by wearing a face covering are not required to do so, but must be appropriately socially distanced.
Watch a video on staying safe on school transportation: