Aspiring nurses, chefs, contractors and fashion designers are among this year's SkillsUSA student leaders at our Career and Technical School Albany and Schoharie campuses.
During a tradition-rich ceremony—recorded for viewing by families and friends—the officers were sworn-in and conducted their first official acts as SkillsUSA officers.
2020-21 Albany Campus SkillsUSA Officers
Morning Officers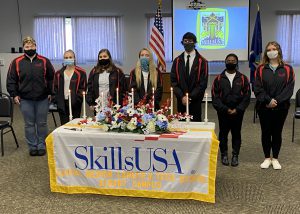 Co-President Sarah Walton, Criminal Justice, Shenendehowa
Co-President Anthony Rispole, Auto Body, Burnt Hills-Ballston Lake
Vice President Lisel Walters, Two Year Sequence of Health Careers, Schenectady
Treasurer Jenna Shader, Two Year Sequence of Health Careers, Ravena-Coeymans-Selkirk (RCS)
Secretary Abigail Bridge, Two Year Sequence of Health Careers, Shenendehowa
Parliamentarian Courtney DiCarlo, Two Year Sequence of Health Careers, Schenectady
Historian/Photographer Breanna Russell, Digital Media/Internet Applications, Mohonasen 
Community Service Liaison Madison Ruby, Culinary, Niskayuna 
Afternoon Officers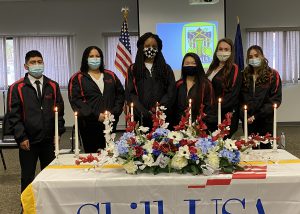 Co -President – Melody Francis, Culinary, Niskayuna
Co-President – Madison Asmus, Global Fashion Studies, Bethlehem
Vice President – Natalie Vogel, Culinary, Guilderland
Treasurer – Sydney Kois, Cosmetology, South Colonie
Secretary – Keleigh Regan, Cosmetology, South Colonie
Parliamentarian – William Rodriguez-Lopez, Auto Trades, Schenectady
Historian/Photographer – Jada Doedema, Culinary, South Colonie
Community Service Liaison – Eyzik Waters, Two Year Sequence of Health Careers, Cohoes
Schoharie Campus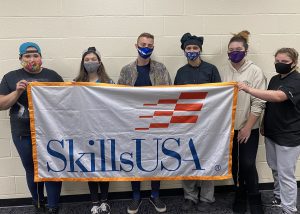 President – Hunter Bouck, Criminal Justice, Schoharie
Vice President – Brianna Krzyztwski-Burke, Criminal Justice, Schalmont
Parliamentarian – Jillian Schoenherr, Culinary, Schoharie
Co-Secretary – Joe Rabbitt, Automotive Technology, Middleburgh
Co-Secretary – Jasmine Neill, Network Cabling/Smart Home Technology, Sharon Springs
Treasurer – Destiny Honsinger, Automotive Technology, Cobleskill-Richmondville
Historian/Photographer – Autumn Kellerman, Culinary, Duanesburg
SkillsUSA is a partnership of students, teachers and industry working together to ensure America has a skilled workforce. SkillsUSA members earn valuable skills they can apply, not only in their careers, but also as leaders in their communities.