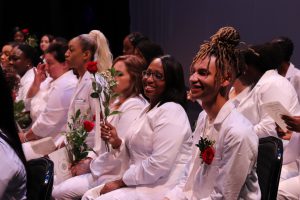 Nearly 150 adults—the largest of our classes for this program—earned their professional nurse accreditation at a ceremony at Proctors Theatre on June 26 and are on their way to becoming Licensed Practical Nurses (LPNs).
The successful completion of the 10-month, full-time class or the 18-month, part-time adult practical nursing class positions adults to take the national certification exam and become LPNs. Their coursework will help open doors into the licensed health care workforce that has been facing a national shortage as a result of the aging of the baby-boom generation. According to the U.S. Bureau of Labor Statistics, the demand for LPNs will grow 12 percent by 2026 with nearly 90,000 new jobs being created. 
"Nursing is in my blood—literally," said graduate Ash Turner of Albany. "My mom, my aunt, my cousins, they all went through this program and love it. I am now a Certified Nurse Assistant (CNA). Becoming an LPN is going to allow me to be more flexible and to have more financial stability as a single mom."
"I have worked really hard for the past 10 months to get here, but now I am going to work as an LPN in the St. Peter's Dementia Unit. I am really excited," added Sherrida Baksh of Schenectady, who was also honored at the ceremony for perfect attendance while attending our program.
2019 Adult Nursing Honors and Awards
Highest Academic Averages
Laci Smithers, (FT), Schenectady

Melissa Lopez, (PT), Amsterdam
Perfect Attendance
Sherrida Baksh, (FT), Schenectady

Melissa Lopez, (PT)

Adama Tolo, (PT), Watervliet
Academic Honors
Lois Bergman Excellence in Clinical Practice Award
Presented to students who apply theory to professional practice and demonstrate consistent, clinical performance in caring for patients.
Emily Thompson, (FT), Scotia

Susan Etherton,  (PT), Amsterdam
Dorothy King General Excellence and Leadership Award
Presented to students with the most professional and academic growth in all aspects of nursing theory.
Zacquoia Dawkins, (FT), Albany

Adrea Coumbes,  (PT), Schenectady
General Excellence and Leadership Award
Presented to students with a high academic standing; consistently positive attitude; well-developed leadership skills in dealing with fellow students and staff and who demonstrate a high degree of professionalism.
 Juliana Klehn, (FT), Rotterdam

Melissa Lopez