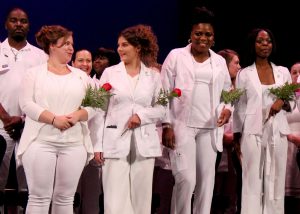 More than 100 adults earned their professional nurse accreditation at a ceremony at Proctors Theatre on June 26 and are on their way to becoming Licensed Practical Nurses (LPNs).
The successful completion of the 10-month, full-time class or the 18-month, part-time adult practical nursing class allows the adults to now take the national certification exam and become LPNs. Their coursework will help open doors into the licensed health care workforce, which has been facing a national shortage as a result of the aging of the baby-boom generation.
Masooda Zaher, a 2018 graduate of the CTE Adult Practical Nursing program, praised her teachers during her remarks at the conclusion of this year's ceremony.
"Our instructors would always say, 'We are teaching you for life, not just to pass your exams,' and they were right. Here we stand today as strong, proud, successful nurses. Thank you for pushing us when we thought we couldn't go another day."
2018  Adult Nursing Honors and Awards
Highest Academic Averages
Myasia Hayes (FT)
Lisa Van Alstyne (PT)
Perfect Attendance
Gabrielle Earing (FT)
 Cameron Woodard (FT)
Wendy McMurphy (PT)
Academic Honors
LonJé Cook
Maria Cruz-Burger (FT)
Gabrielle Earing (FT)
Stephvon Moore(FT)
Sierra Pounds (FT)
Shundiya Ricks (FT)
Lindsay Thomas (FT)
Zuleka Figueroa (PT)
Kasiya Longmire (PT)
Amanda Rose (PT)
Lois Bergman Excellence in Clinical Practice Award
Presented to students who apply theory to professional practice and demonstrate consistent, clinical performance in caring for patients.
Megan Grybos (FT)
Authmn Finn (PT)
Dorothy King General Excellence and Leadership Award
Presented to students with the most professional and academic growth in all aspects of nursing theory.
Erika Alfonso (FT)
Lisa Van Alstyne (PT)
General Excellence and Leadership Award
Presented to students with a high academic standing; consistently positive attitude; well-developed leadership skills in dealing with fellow students and staff and who demonstrate a high degree of professionalism.
Briana Christmas (FT)
Wendy McMurphy (PT)